Search
58 result(s) matching "", (0.01 seconds)
etch-a-sketch animator and pixeltime
The talk of bitsy's limitations reminds me of the tools where I learned super-small scall (and sometimes monochrome) pixel art... the Etch-a-Sketch animator.
Brilliant piece of tech for the day: a Gameboy-ish screen (but with FAT pixels, 40x30) and a digitized, screechy version of the traditional etch-a-sketch dials (heh, shake to erase was still a decade or two out for digital stuff), and 12 screens that could be played back in sequences of over 100 frames
I reproduced the examples in the booklet here: https://kirk.is/features/etcha/ and this is another art-minded thing I did: https://kirk.is/2002/04/15/ (I'm kind of intrigued with "photorealistic" stuff on super primitive display systems)
It also reminds of Pixeltime, word.com (before it was just a dictionary site) had an odd little 45x45 paint program with a digital judge/emcee and a bunch of competitions: https://kirk.is/pixeltime/
The biggest connection was me making tiny tiny fonts, 3x4 and what not.
Anyway, anyone here use either of those?
etch-a-sketch animator and pixeltime
I think this is the first time I've heard of either tool. That Etch-a-Sketch Animator is pretty awesome.. the closest thing I have tried to that is EasyToon, an art program made just for drawing black-and-white animated GIFs.
Episode 3: Roman Banias discussion thread
@spindleyq 'Fraid not!
But I remember the first room looking something like this, but with nice VGA colours of course.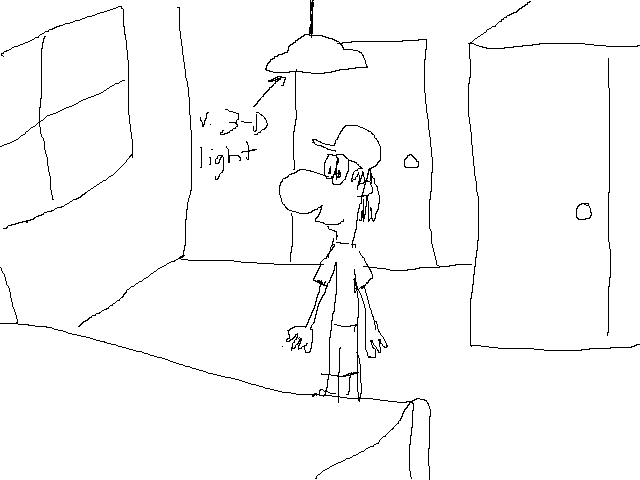 Something else this show made me remember was I sometimes made install disks for games I never actually made. I'd make a label, a README.DOC and a little batch file to unzip an archive to somewhere :D
bitsy
I've taken a couple stabs at messing around with Bitsy, and even tried to make something for the October BitsyJam. Everything I've wanted to do has been way too visually complicated and challenging for me to want to work out drawing each tile pixel-by-pixel (and I ran into some weird placement bugs). It reminds me of ZZT in that way (and in a very basic functional way, too) in that it can take a lot of work to make something that reads very simple. I actually think next time I try to make something, it's going to be with a really stripped down visual sense, maybe even back to the simple dithering shades of the ANSI character set.
I've really admired some of the short games I've played with it. The parameters of the system allow for a really great space to use color and negative space for expression.
I don't want Bitsy to get too complicated, but I do find myself wishing there was just a little more complexity. A few more options and features. But I really dig what it's going for, and what it is as it is.
At this point, I'm waiting to find the right flash of inspiration for a project.
Episode 3: Roman Banias discussion thread
This was one of my favorite episodes to date! Really took me back to the early 90s when my cousin and I would draw and exchange game ideas on paper for hours on end. I wish we'd made more games to show for it! (And I wish I had the aborted builds for what we failed to finish.)
JRPGs and kid-made games really do love to start in bedrooms. I think most my first ZZT games did.
Who are you? (The self-introduction thread)
Hi all! I think I actually know who most of you are either from Glorious Trainwrecks or Twitter or familiarity with your games or whathaveyou. But I thought it'd be nice to have a place where we can identify ourselves and what brings us here and all that. I'll start.
I'm John D. Moore. Known as thesycophant at Glorious Trainwrecks and formerly known as Newt in the ZZT community. Born 1983.
I started designing games on paper in the early 1990s with my cousin. These amounted to Mega Man fan games by a kid who had played very little Mega Man but had looked at a lot of Mega Man maps in Nintendo Power. We also made little interactive stories in a program (that I should really write about some time) called Story Maker Plus.
My cousin later introduced me to QBASIC in 1996 and ZZT in 1997. I used QBASIC to program a handful of text adventures, starting with a virtual tour of my family's house. A friend and I actually completed a short one called UFO Invasion that we uploaded to AOL, but it's lost to time, like all the other weird little holiday-themed games I made and tried to make my sisters play. I also made plans for giant Zork-sized fantasy games that never came to fruition. My cousin and I later worked on our magnum opus, a text adventure called Labyrinth of Gromad, but by then I'd grown bored with the complexity of writing a text parser, and left engine-writing to my perfectionist cousin, who tinkered with it until he decided to write it as a graphical adventure in C+ in high school.
I made ZZT games starting in 1997, starting--like as a ZZTer, you were supposed to--with some jokey adventure games, followed by some overly sincere ones. the ZZT community seemed to like my "engine games," though--platformers and Lemmings clones like The Punctuation People and the Zem! series.
I stepped away from ZZT and game dev in the early 2000s to focus on filmmaking, though I played around a little bit with a friend's planned ZZT enhanced clone/successor Bang!.
Beginning in 2009, I started making games with Game Maker, and I was really spurred on by the community events at Glorious Trainwrecks. I've made over 70 games since then. My most recent (and biggest game yet) is Explobers. I'm mostly interested in making small platformers that experiment with novel mechanics, and sometimes games that I think make for fun jokes.
Here's my catalog of games, totaling over 80 and going back to my first 1997 ZZT games: whatnot.bombdotcom.net
And here's my Twitter handle: twitter.com/jdm0079
Pronouns: He/him/his
Really grateful to have this space! I'm loving the podcast, and I can only imagine its listenerbase will make for a very interesting community. Looking forward to reading introductions from some of all y'all!
Who are you? (The self-introduction thread)
Hi folks! I'm Rabbitboots.
As a kid, I got my filthy little hands on Klik & Play, and started working on many fractions-of-games that never progressed past a few screens. I remember raiding the internet for appropriate MIDI files.. Nowadays, I sometimes recognize a song on classic top 40 radio or in a show, and realize that the first time I had heard it was as some random MIDI file from one of these expeditions. It's left its mark for better or worse.
Later on, I made various things under the handles qrleon and gingermuffins. I'm amused and horrified to know that many of these things are now instantly playable in a browser on archive dot org.
I have a website for some reason (https://rabbitboots.com/) and I can be reached on twitter at @rabbit_boots.
I'm really enjoying the podcast so far! The past couple of episodes about fangame communities and RPG Maker I found very resonant to my dumb kid days.
bitsy
btw i've been cataloguing all the bitsy games i can find here, there will be around 500 by 2018!
https://docs.google.com/spreadsheets/d/1eBUgCYOnMJ9REHuZdTodc6Ft2Vs6JXbH4K-bIgL9TPc/edit?usp=sharing
it's interesting that the changing features create a kind of strata in the style, complexity, structure of the games. single rooms tend towards frozen moments in time. exits give the ability to have distinct scenes, show the passage or time, add branching. the introduction items brings one-time dialogue, narration for entering new areas, footprints. the dialogue scripting opens up more options for backtracking, and hiding the solutions to mazes behind collectables and quests. personally i feel like the limitations are giving way too fast, there's so much still to explore...